401 S. Beltline Hwy W
Scottsbluff, NE 69361
Hours Of Operations:
Sunday 6:30a - 5p
Monday - Saturday 6:30a - 6:30p
Regional West Medical Center
4021 Ave. B
Scottsbluff, NE 69361
Hours Of Operation:
Monday - Friday 6:30a - 4p
Bean and Bottle
1650 10th St.
Gering, NE 69341
Hours Of Operations:
Sunday 7a - 12p
Monday & Tuesday 6:30a - 6:30p
Wednesday - Saturday 6:30a - 8p
Coffee Counter - Espresso, Coffee, Pastries & More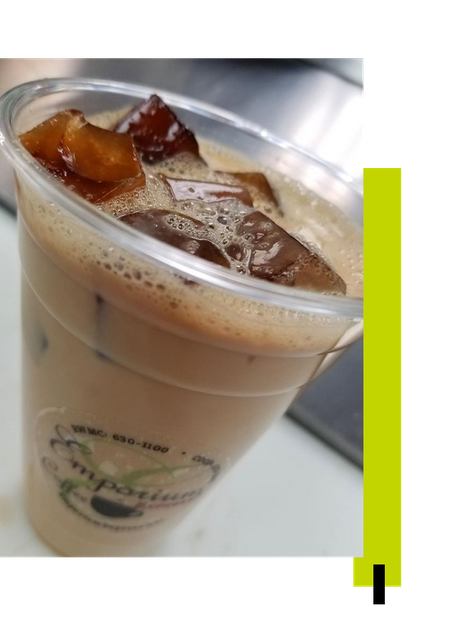 Locally Owned and Community Operated
At Emporium Express in Scottsbluff, Nebraska, we pride ourselves on being a locally-owned and operated coffee shop. We are proud to offer not only delicious beverages and pastries but are cultivating an environment that offers not just part-time jobs, but career paths with benefits and incentives to support our amazing staff and offer long-term employment and a positive work atmosphere to our community.
More Than Just a Coffee Shop
We are constantly learning and love sharing our growing knowledge with our amazing customers, whether they are long-time regulars or first-timers! With International Barista and Coffee Academy certified baristas, we encourage our staff to expand their knowledge about every drink that we offer. Whether that is a better understanding of the roasting process of coffee beans, or the history of the boba tea, we believe knowledge helps us to create better quality and better-tasting beverages for you, your friends, and your family!
We strive to create a Bohemian vibe and welcoming atmosphere that you will have a hard time prying yourself away from. Whether you're looking for freshly roasted coffee beans or homemade cupcakes and cookies, we offer delicious and fresh choices for everyone. No matter your age or dietary requirements, we have something for everyone. We are passionate about our quality, service, and customer experience. Along with our coffee, we offer tea, fruit smoothies, bubble teas, and more! Located near the beautiful Oregon Trail, our coffee shop allows you to enjoy relaxing bohemian vibes and delicious delights. We additionally offer online ordering and a loyalty program to enjoy.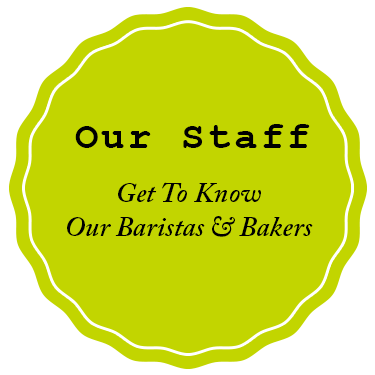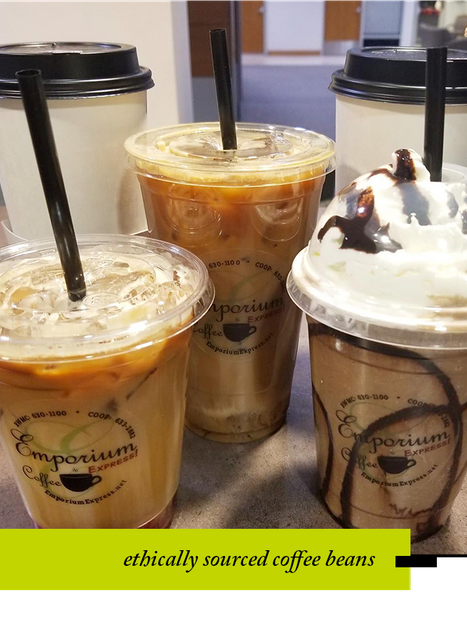 Something for Everyone At Emporium Express
At Emporium Express, we offer a wide selection of tasty and refreshing beverages with as much caffeine as you need to get you through the day or with none at all. With something for every member of the family, even your furry friends!
There are several fresh, tasty drink options at Emporium Express for people of all ages. Can't drink milk? We offer several non-dairy choices including almond, coconut, oat, and soy milk. Limiting sugar? We can handle that too with our dozen+ sugar-free flavors! If you're not sure which drink to try, stop in today and have one of our staff members find a drink perfect for you! Whether you're looking for an exceptional espresso or a tasty tea, we have the coffee and beverages that will leave your mouth watering.
Always Freshly Roasted Beans
We love supporting and working with other small businesses that are environmentally mindful and community-centered. So naturally, we sought out just that when choosing our coffee roaster. Jackies Java in Fort Collins, Colorado works directly with amazing coffee growers from all over the world to sustainably and responsibly source their green beans. We receive our beans weekly, ensuring freshness and the best taste possible for your morning cup of motivation!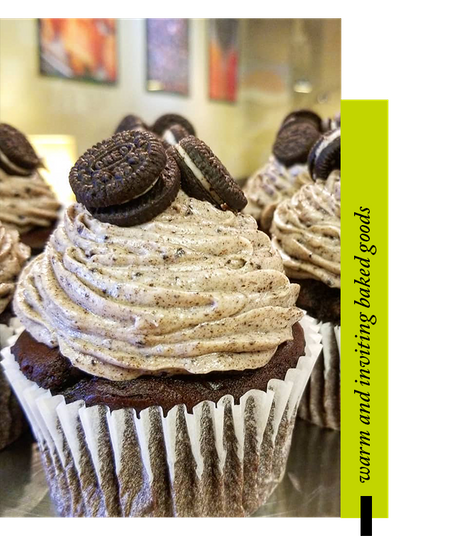 Homemade and Baked Fresh Daily At Emporium Express
For those looking for breakfast or a sweet treat, we have you covered! Pop into our lobby at 6 am and the intoxicating smell of freshly baked danish, scones, and croissants will have your mouth watering. Amazing with our piping hot coffee any of our made-with-love pastries are a perfect way to start your morning or treat yourself in the afternoon. Our cupcakes and cookies are always homemade and delicious. In fact, our cupcake recipes include several from our owner's grandmother's cookbook. We love trying new cupcake flavors, however, our signature giant red velvet is always offered. Our gooey cookies are the perfect sweet treat to get you through the rest of your afternoon and are baked fresh daily in small batches to ensure deliciousness.
Emporium Express Locations