Menu
(ALL SUBJECT TO SUPPLIER AVAILABILITY)
Frappuccinos & Frappes
Salted Caramel Frappuccino
White Mocha Frappuccino
Caramel Frappuccino
Mocha Frappuccino
Spiced Chai Chino
Peanut Butter Frappe
Oreo Frappe
Chocolate Chip Frappe
Or choose any of our 45+ Syrups and Sauces to make your favorite Frappuccino!
Coffee & Espresso
Drip Coffee
Cappuccino
Americano
Latte
Breve
Caramel Macchiato
Bulletproof Coffee
Cold Brew
Specialty Drinks
Mexican Spiced Mocha
Chai Tea Latte
Matcha Latte
Charcoal Moch
Hot Chocolate
Caramel Frizz Coffee
Redbull Mimosa
Brewed Tea
Caffeinated Black Teas
Ceylon
Earl Grey
English Breakfast
Paris Blend
Cinnamon Spice
Turmeric Spice
Caffeinated Green Teas
Japanese Sencha
Organic Green with Citrus
Bangkok
Chinese Flower
Decaffeinated & Herbal Teas
Ceylon
Earl Grey
Chamomile
Midsummer's Peach
Peppermint
Hot Tea
London Fog
Dr. Smoothies
Flavors
Strawberry
Four Berry
Peach, Pear, Apricot
Pineapple
Mango
Add a Scoop
Antioxidant
Energy
Green Blend
Hangover
Immune Support
Multi-vitamin
Probiotic
Protein ($1)
Smart
Trim & Fit
Vitamin C
Woman's Blend
Bubble Smoothies
First Pick Your Base
Almond
Coconut
Honeydew
Mango
Matcha Green Tea
Strawberry Cream
Taro Tea
Thai Tea
Vanilla Cream
Then Pick Your Bubbles
Blueberry
Mango
Peach
Strawberry
Lychee (Tropical)
Green Apple
Pomegranate
Kiwi
Chili
Express Yourself At Emporium Express
Syrups
Almond*
Amaretto
Banana
Blackberry
Blood Orange
Blueberry
Blue Raspberry
Cherry
Cinnamon
Coconut*
Gingerbread
Green Apple
Hazelnut*
Irish Cream*
Lavender
Macadamia Nut
Mango
Maple Spice
Orange
Passion Fruit
Peach
Peanut Butter
Peppermint*
Pineapple
Pomegranate
Praline
Pumpkin Pie* (SF only)
Red Raspberry*
Salted Caramel
Simple Syrup
Strawberry*
Toasted Marshmallow
Toffee Nut
Vanilla*
Sauces
Caramel*
Dark Chocolate*
Pumpkin Spice (Seasonal)
White Chocolate*
*Available in Sugar-Free
Add a Scoop
Antioxidant
Energy
Green Blend
Hangover
Immune Support
Multi-vitamin
Probiotic
Protein ($1)
Smart
Trim & Fit
Vitamin C
Woman's Blend
Food & Snacks
Umpqua Oats
Oatmeal-on-the-go with big flavor and nutrition. Flavors include:
Apple Cranberry
Banana Walnut
Blueberry Apple
Fruit & Nuts
Himalayan Fruit & Nut
Maple Pecan
Triple Berry
Vanilla Almond
Umpqua Oats are all non-GMO, whole grain certified, kosher, and made in the U.S.A. with no gluten ingredients.
Made right when you order with hot water, or try it with steamed milk or your favorite non-dairy option
Fresh-Baked Goods:
Breakfast Biscuits: Bacon, Egg, & Cheese; Sausage, Eg
Scones: Apple Cinnamon, Blueberry, Raspberry White Chocolate
Danish: Blackberry, Lemon, Raspberry, Maple Pecan
Muffins - Blueberry, Double Chocolate, Banana Walnut, Cinnamon Streusel with Walnut
Cookies: Peanut Butter, White Chocolate Macadamia Nut, Salted Caramel
Filled Croissants: Chocolate, Strawberry Cream, Spinach & Feta, Ham & Swiss
Frosted Cinnamon Rolls
Our yummy pastry selection goes fast! **Ask your barista for current offerings.
We are happy to accommodate your dietary needs, please ask your barista for any suggestions or modifications.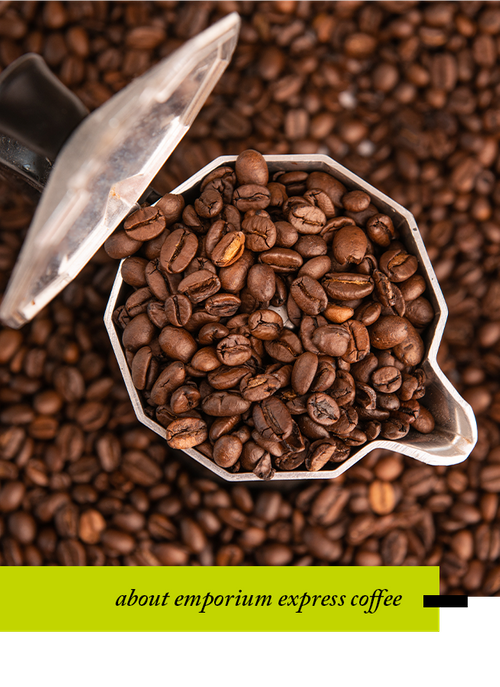 Wanting to join the team at the Emporium Express?
Current open positions at Emporium Express will be posted on Indeed.com
Visit Emporium Express On Instagram & Facebook